The Original Italian Restaurant Making Waves in London's Soho
If you have not dined at Soho lately, then you probably have not heard that 40 Dean Street, has re-launched.
This cosy, bistro-style and terrace family-run restaurant which has been serving Italian cuisine for nearly two decades has relaunched reviving the classic Italian dishes it serves best at affordable prices in the heart of London. Focusing on the Italian tradition of using fresh, seasonal ingredients, 40 Dean Street offers diners a selection of classic Italian pizza and pasta dishes as well as regional specialities.
Executive Traveller tried and tasted the following dishes which were all delicious and cooked to our satisfaction:
Pan Fried Tiger Prawns, Cherry Tomatoes & Shellfish Sauce with Toasted Crostini
 Deep Fried Calamari served with Sweet Chilli Dip & Garlic Mayonnaise
Linguine with mixed seafood, cherry tomatoes and brandy
Roasted Rosemary & Honey Lamb Chops with Mustard Crushed Potatoes, Green Pesto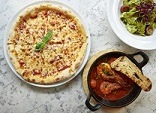 Other signature dishes from their a la Carte menu include:
Italian Antipasto: Selection of Cured Meats, Pickles, Buffalo Mozzarella & Chargilled Artichoke
Roasted Portobello Mushroom filled with Goat's Cheese & Sundried Tomatoes
Parma Ham, Mushroom, Buffalo Mozzarella, Fresh Rocket & Truffle Oil pizza
Lemon roasted Sea Bass with sautéed spinach, king prawns and fresh clams,
Spaghetti Aglio E Olio, (King Prawns, Garlic, Fresh Chilli & Extra Virgin Olive Oil)
Gnocchi with wild mushroom, smoked mozzarella and truffle oil.
Their "must-try" deserts include:
Banoffee Pie with Vanilla Ice Cream Toffee & Fresh Bananas, Topped with Double Cream on Digestive Base Classic
Profiteroles Soft Choux Pastry Filled with Chantilly Cream served with Chocolate Dressing
Vanilla Panna Cotta with Mix Berries Compote Dressing Traditional Italian Cooked Cream with Vanilla Pod
Homemade Tiramisu Pick me up! With Coffee & Amaretto Liquor
Lemon Tart & Lemon Sorbet Sweet Shortcuts Pastry Filled with Tangy Lemon Egg Custard
They also have a popular set-menu of two-courses from £13.90 and three courses from £16.90 available throughout the day. The set menu is perfect for theatregoers looking to enjoy a pre or post performance dinner, or those who also enjoy "la dolce far niente" – "the sweetness of doing nothing".
The bar at 40 Dean Street serves traditional Italian wines and beers, as well as classic Italian cocktails like Aperol Spritz, Negroni, Bellini and popular house cocktails like Amaretto Cherry Sour, and Gin Basil Bomb.
After dinner drinks include a selection of Dammann teas and coffees as well as Italian digestifs like Limoncello, Grappa, and Cinzano Bianco.
For more information please visit www.fortydeanstreet.com
40 Dean Street
Soho
London
W1D 4PX
Tel: +44 (0)20 7734 1853